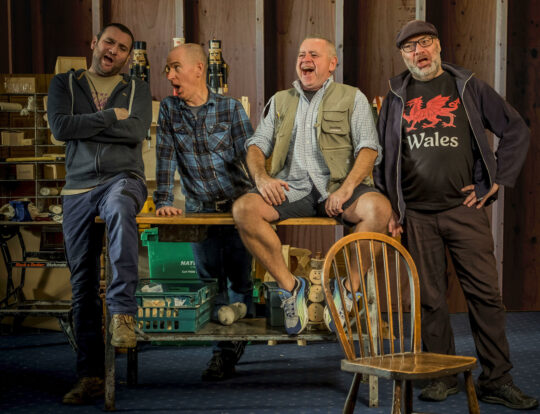 How do you beat loneliness? How do you learn to laugh again?
Busy young mum Gwen is at her wits end with her dad, Rhys, who's hitting the whisky having lost his wife and son.
Bereaved and lonely, Rhys reluctantly joins his local Men's Shed.
Experienced Shedders, Dai, Ioan and Charlie, with difficult stories of their own, show Rhys the ropes…woodworking, garden gnomes, and where the teabags live…
Our acclaimed new chamber opera, Shoulder to Shoulder, explores the issue of loneliness and isolation. Shoulder to Shoulder was developed through our partnership with the charity Men's Sheds Cymru.
Shoulder To Shoulder is inspired by the moving, uplifting, and laugh-out stories of members of Men's Sheds Cymru.  The charity supports isolated men by creating warm and welcoming spaces where Shedders build friendships, enjoy hobbies, and learn new skills. And drink tea.
Swansea City Opera collected Shedders' stories of life's ups and downs. Librettist Brendan Wheatley of Swansea City Opera created the story of a group of Shedders, and Lenny Sayers (BBC National Orchestra of Wales) set the story to music.  The result is a new opera – Shoulder to Shoulder.
Shoulder to Shoulder is a powerful, uplifting exploration and often funny story of men overcoming isolation through their friendships made in their local Shed.
And a garden gnome becomes part of the story…
Shoulder to Shoulder's ensemble features Wales-based professional singers and musicians, many of whom sing and play in major opera houses, companies, and orchestras, including the Royal Opera House, Covent Garden, Glyndebourne Festival Opera; Welsh National Opera, English National Opera; Opera North; Scottish Opera, and the London Philharmonic Orchestra.
Soprano Jessica Robinson, who plays the role of Gwen, represented Wales in this year's prestigious BBC Cardiff Singer of the World competition. As a finalist, Jess was the first Welsh finalist in over 20 years and follows in the footsteps of the like of the internationally renowned Welsh singer Sir Bryn Terfel.
30 minutes before each performance during our November 2023 tour, there will be a 30-minute talk from Swansea City Opera's Artistic Director Brendan Wheatley on how Shoulder to Shoulder was developed.
Working with local choirs. 
Shoulder to Shoulder will feature members of the following choirs during the tour. Brecon Singers will appear at Theatr Brycheiniog, Brecon on Saturday 11 November. Haverfordwest Operatic Society will perform at Bethesda Baptist Church, Neyland on Wednesday 15 November, Llanhilleth Institute, Abertillery on Thursday 23 November, and at YMa Pontypridd on Saturday 18 November. Llysfaen Singers and Canton Chorus will perform at Cardiff's TramShed on Tuesday 21 November and Memorial Hall, Lisvane on Saturday 25 November.
The development of Shoulder to Shoulder with Men's Sheds Cymru.
Swansea City Opera's aim is always to make opera accessible, and the partnership with Men's Sheds Cymru brought large numbers of new audiences to opera.
"I went to the opera with slight misgivings.  Came back a convert!"
Loneliness is an epidemic; it increases with age and disproportionally affects men. Men's Shed Cymru is a unique organization that supports older men experiencing loneliness by creating warm and welcoming spaces where they can learn new skills, build friendships, and make new beginnings.   Men's Shed Cymru is part of a worldwide movement founded in Australia that aims to alleviate social isolation, predominantly among older men, through social activities.
Besides being socially isolated, some 'Shedders' have faced challenging life events such as physical and mental illness, bereavement, bankruptcy, and redundancy.
Librettist Brendan Wheatley rooted Shoulder to Shoulder in the stories of 'Shedders', which he gathered through interviews in 2020 – 2021, which included periods of the lockdowns in Wales.
By listening to stories and sharing the laughter of 'Shedders', Brendan crafted the story and libretto of Shoulder to Shoulder. The composer and clarinetist Lenny Sayers, whose music has been broadcast on BBC Radio 3, BBC Radio Wales, BBC Radio Cymru, and BBC Radio Scotland, wrote the score.
In 2022, Shoulder to Shoulder toured a mix of professional venues, including Torch Theatre, Milton Haven and Ucheldre Arts Centre in Anglesey as well as community venues.
In some locations, the tour was accompanied by workshops in music and singing, sometimes taking singing and music-making to some Sheds for the very first time. Again, we worked with local choirs who accompanied singers on stage.
You can discover more about the making of Shoulder to Shoulder in an hour-long conversation between Brendan Wheatley and Robert Visintainer, Project Manager, Men's Sheds Cymru.
Shoulder to Shoulder has been supported by Arts Council Wales' Cultural Recovery Fund,
Arts Council Wales project funding, the National Lottery Community Fund, Tŷ Cerdd, The Garfield Weston Foundation, Arts Council Wales Noson Allan/Night Out, the Friends of Swansea City Opera, The Gwendoline and Margaret Davies Charity and Local Giving 'Magic Little Grants'.
Artwork by Sean Slater.
Photographs by Guy Harrop